Fremantle Dockers new guernsey?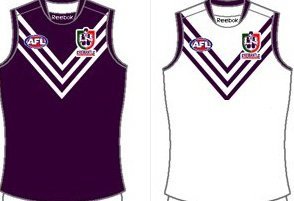 There have been several rumours circulating in regards to the clubs guernsey and that a new look is apparently going to be uncovered at the clubs Doig Medal function on October 2nd.
Gone is the green and red, we now have the purple jumper with three white V stripes at home and a white jumper with three purple V stripes away.
Also, gone is the the anchor, which will be kept as a small symbol at the back of the jumper near the neck.
The AFL have signed off on the new strips and we will play in them from next year.
We are also led to believe that there are five songs short listed to replace 'Heave Ho'
Also, the 'Docker' name is finally ours to use after Harris and Rosich signed an agreement with the Dockers Corporation to licence the name. It means the club can now officially market the 'Docker' name.