Freo dons the purple as Dockers mania heats up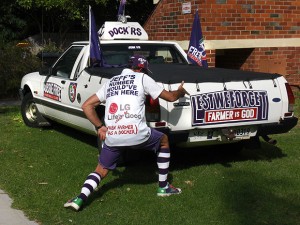 Dockers-mad business owners across Fremantle are proudly throwing their weight behind the club in the lead-up to the elimination final against Hawthorn at Subiaco on Saturday.
After a prominent 23-metre "Go Freo" banner was draped across the Woodside building this week, Fremantle businesses really needed to step up their game to paint the town purple.
A wander along William Street before heading down Essex Street to the Port Authority building will show any tourist just how proud Fremantle supporters can get, with dozens of businesses on board with flags and balloons.
Self-proclaimed Dockers tragic Kevin Croon from the Roof and Wall Doctor is hoping his banner-clad building will give the side the push it needs to bring home a win.
"The girls in the shop are wearing all the purple gear, and my dog Jessie is wearing a Dockers scarf," he said.
"I've been a supporter of the Dockers since the beginning – I'm member number 60."
Tipping a three-goal win to the home-side, Mr Croon was confident the young players would get the Dockers over the line.
"We've got a good bunch of players this year, and they're not going to be intimidated by a grand final," he said.
Marie La Frenais from the City of Fremantle said they were running a campaign with local businesses, providing them with free balloons and streamers with banners from the AFL, to display in their windows this week.
"This is the first time we've done something like this with the Fremantle Dockers," she said.
"A lot of businesses are now covered in purple, which is fantastic for the club and for the City."
Fremantle will play Hawthorn at Subiaco Oval on Saturday in a sold-out elimination final from 1.20pm.